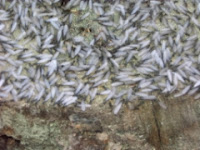 1. What are termites? Termites are wood-destroying insects. Their presence dates back to the dinosaurs. While they play an important role in nature, experts estimate they cause $5 billion of property damage each year.
2. Are there different kinds of termites? Yes, the three major kinds of termites in the United States are dampwood, drywood, and subterranean. Dampwood termites commonly live in heavily forested areas of the country as they prefer wet wood; while, drywood termites, much more rare in the United States, prefer extremely dry wood. Subterranean termites require moist environments, live mainly in the soil and are the most destructive species.
3. How do you recognize termites? Depending on your geographical location, termite swarms should be visible in the early spring. Termite swarms can be confused with flying ants. Telltale signs of termite infestation include soft wood in the home, mud tubes in the interior or exterior of your home (often near the foundation), and darkening or blistering of wood structures.
4. How much damage do termites cause? Termites work 24 hours/7 days a week at damaging the wood in and around a structure. And, while they cause $5 billion in damage each year, there is no reason to think that termites cannot be controlled.
If you're concerned that you have termites in your home or place of business, give Dave a call at 1-800-400-6009.