Silverfish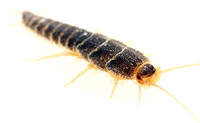 Lepisma saccharina (commonly called the fishmoth, urban silverfish, or just silverfish) is a small, wingless insect typically measuring from a half to one inch (12-25 mm). Its common name derives from the animal's silvery blue colour, combined with the fish-like appearance of its movements, while the scientific name indicates the silverfish's diet of carbohydrates such as sugar or starches. It belongs to the basal insect order Thysanura, a group estimated to have existed for over 300 million years, at least since the Paleozoic Era.
The favorite food of silverfish is any matter that contains starch or polysaccharides, such as dextrin in adhesives. These include glue, book bindings, paper, photos, sugar, hair, and dandruff. Silverfish can also cause damage to books, tapestries, and textiles. Silverfish will commonly graze in and around showers, baths, and sinks on the cellulose present in many shampoos, shaving foams and so on. Apart from these cases, the damage caused by silverfish is negligible and they have no direct effect on human health beyond psychological distress to those who are frightened or disgusted by their appearance, or to those whose books have been destroyed by the creatures. Other substances that may be eaten include cotton, linen, silk and synthetic fibers, and dead insects or even its own exuvia (moulted exoskeleton). During famine, a silverfish may even attack leatherware and synthetic fabrics. In extreme cases, silverfish may live for one year without eating. Silverfish can be found anywhere in homes including, but not limited to, garages, closets, underneath beds, couches, electrical appliances such as keyboards and generally preferring dark areas.

Go Green
with our envirocare™ program

Seasonal Advice
Because pests are active all year-round!

Bug Photo Contest
Get a $10 Verizon Gift Card