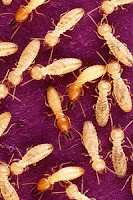 1. When does a homeowner see termites? Termites swarm in the early spring, depending on their geographical location.Add caption
2. What can a homeowner do to prevent termites? The most important thing is to remove the conducive conditions termites need to survive. Termites love moisture; avoid moisture accumulation around the foundation of your home.
Prevent termites by diverting water away with properly functioning downspouts, gutters and splash blocks. Reduce humidity in crawl spaces with proper ventilation. Prevent shrubs, vines and other vegetation from growing over and covering vents. Be sure to remove old form boards, grade stakes, etc., left in place after the building was constructed.
Remove old tree stumps and roots around and beneath the building. Most importantly, eliminate any wood contact with the soil. An 18-inch gap between the soil and wood portions of the building is ideal. It doesn't hurt to routinely inspect the foundation of your home for signs of termite damage.
If you're concerned that you have termites in your home or place of business, give Dave a call at 1-800-400-6009.