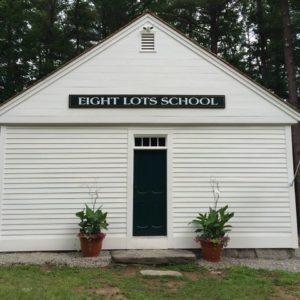 Dave's Pest Control has cherished the opportunity to help restore history! We are proud to have played a part in the recent renovation and preservation of the Eight Lots Schoolhouse in Sutton, Massachusetts. While the Eight Lots Schoolhouse closed in 1918, it is believed to have been built some time before 1773. This makes it one of the oldest one-room schoolhouses in the United States and is a mark of distinction and historic pride for Sutton. Some of Sutton's most famous forefathers attended this school such as 38 Revolutionary War Soldiers including General Rufus Putnam! Unfortunately though, the old schoolhouse was not in good shape and had deteriorated badly. It had a sagging floor, rotting shingles and roof leaks as well as wood eating pest infestations such as carpenter ants and termites.
Special Recognition from Sutton Historical Society
Dave's Pest Control is honored to be receiving a special recognition by the Sutton Historical Society for donating our services during the restoration. We did a full exterior EPA approved preventative treatment of the schoolhouse for carpenter ants and installed eight in-ground termite bait stations. Our services included the pest treatment, installation and materials used, plus one year of baiting the stations. The restoration project was completed in sections, from the foundation and framing to the roof and ceiling. Last year Dave's Pest Control successfully applied a termite prevention treatment to all the sills and exposed floor joists prior to the installation of the subflooring.
Termite & Carpenter Ant Insect Control Treatments
The insect control treatments we applied will help preserve and protect the restored schoolhouse from the types of carpenter ant and termite infestations that caused the extensive damage to it previously. All of the restoration and repairs to the schoolhouse took three years and 3,200 man hours to complete; 2,800 of which were provided by volunteers like Dave's Pest Control. The Eight Lots Schoolhouse will be open to the public on Sept. 20 from 2-5 p.m and we encourage all who can to attend to do so. Stop on by, step back in time and see what school was like over two hundred years ago!