The deer tick will feed on a variety of hosts including people. After the eggs hatch in the spring, the very tiny larvae feed primarily on white-footed mice or other small mammals.  In the fall, they molt into adults that feed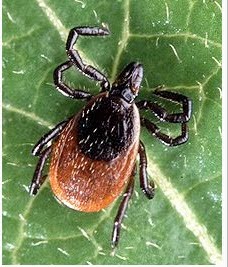 primarily on deer, with the females laying eggs the following spring.
Adults are reddish-brown and about 1/8-inch long (or about one-half the size of the more familiar female American dog tick). These ticks are found in wooded areas along trails. The larvae and nymphs are active in the spring and early summer; adults may be active in both the spring and fall. The blacklegged / deer tick can transmit Lyme disease to humans.
Preventing and controlling ticks around your home…
Make sure the property around your home is unattractive to ticks. Because ticks are sensitive to dry conditions and do not thrive in short vegetation, they are seldom a problem in well-maintained lawns. Keep your grass mowed and keep weeds cut.
Fruit trees attract deer. If ticks are present in vegetation or fruit-bearing trees and shrubs along on your property, contact a professional pest control company for assistance.
Clean up items that attract rodents which can carry ticks, such as spilled birdseed, and hiding places like old wood piles.
Free-roaming dogs and cats are much more likely to encounter ticks than those that are confined to the home or yard. If ticks are found on pets, contact your veterinarian for information about an appropriate tick treatment.
If you're concerned that you have ticks in your home or place of business, give Dave a call at 1-800-400-6009.