The Pest: Mud Daubers . . .
Mud daubers are long and slender, usually black in color, and may have pale markings or a metallic luster.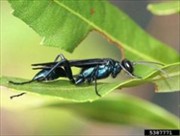 The nest: Mud daubers are solitary wasps and do not live in colonies. Females construct nests of mud. Many short mud tubes, usually about 1 inch long, are constructed side by side. They frequently build nests under eaves, porch ceilings, in garages and sheds, barns, protected building walls and attics.
The threat: Mud daubers are considered beneficial insects because they control spiders. However, if their nest is located near human activity, control is warranted.