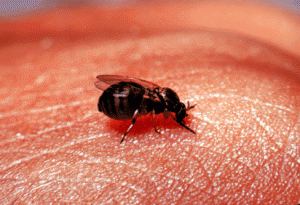 Black flies, also referred to as gnats or buffalo gnats, are a problem from spring through summer, and can be a serious problem because of their ability to bite. They use blade-like mouthparts to slash the skin and feed on the blood. Some black flies are just a nuisance, flying around us without biting.
Bites are shallow and accomplished by first stretching the skin using teeth on the labrum and then abrading it with the maxillae and mandibles, cutting the skin and rupturing its fine capillaries. Feeding is facilitated by a powerful anticoagulant in the flies' saliva. Biting flies feed during daylight hours only and tend to zero in on areas of thinner skin, such as the nape of the neck or ears and ankles.
Itching and localized swelling and inflammation sometimes occurs at the site of a bite. Swelling can be quite pronounced depending on the species and the individual's immune response, and irritation may persist for weeks. Intense feeding can cause "black fly fever", with headache, nausea, fever, swollen lymph nodes, and aching joints; these symptoms are probably a reaction to a compound from the flies' salivary glands. Less common severe allergic reactions may require hospitalization.